Cost: $24.99 a Month; subscribers can purchase a 3 month plan and each box is just $19.99!
Not a Subscriber yet, Check out these Free Box Offers:
Today's Hot Julep Offer: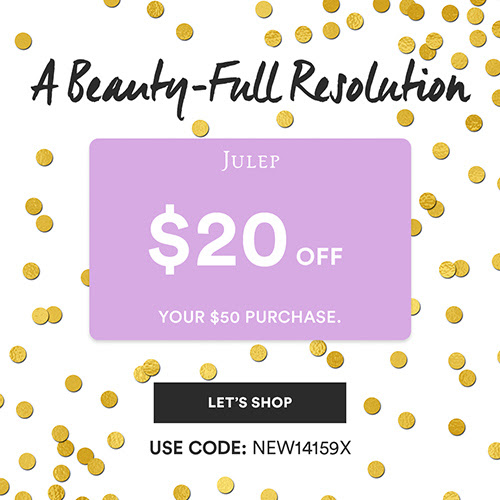 Get $20 off of your purchase of $50 or More. Use Code NEW14159X at checkout. (Expires 1/10/16)
New Subscription Coupons for January 2016:
Join Julep and get 50% off your First Welcome Box ($58 value) – just pay $2.99 shipping use code BRAVE (expires 1/16/16)
Get Your First Beauty Box Free With A 3-Month Subscription to Julep use code SNOWWAY (Expires 3/31/16)
*Upon completion of trial you will be signed up for the Monthly subscription price unless you decide to cancel or skip prior to the trial end date. Your First box will contain the options within the offer and not the selections in this months open selection.
Julep started as a nail subscription service that offered a store front where non-subscribers could also purchase from. Maven gives you exclusive access to hand-pick trendsetting new nail colors, cult faves and cutting-edge beauty products based on your beauty profile. If you are a Nail Addict you will adore the top niche brand Julep and the Monthly Subscription Box Julep Maven. Now the selection has expanded to all beauty care needs and they even are listed on Sephora and are in select Department stores! But the saving really happens when you become a Maven, where you save on new releases and never before seen first looks!
Each month Julep releases a new collection, and you can decide which collection you want, you can upgrade/add-on to the collection, or you can skip (Julep recently changed their skip policy, so you have to earn a skip for every 6 months).
Maven's can:
Receive a fully customizable box of limited-run nail colors and beauty innovations each month
$40+ of full-size products in every box for just $24.99 per month
Free shipping and 20% off on julep.com all month long
Remember: The selection window opens on the 20th so get ready!
What did you think about the Julep Maven Promo's?