Panda Pals: Play and Learn Kids Sock Subscription!!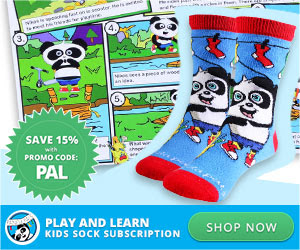 Cost: Starting at $12 per month depending on the subscription length
Coupon: Use coupon code PAL and save 15% off your subscription
PandaPals is the play and learn monthly sock subscription created just for kids. Every month they will receive socks and learning activities called "Socktivities". The Socktivities consist of 2 pairs of socks with fun Panda Pals designs, an engaging story about an animal you can read together and an educational activity featuring a new Panda Pal each month. Socks are high quality Peruvian cotton and come in exciting colors and patterns. Makes a great gift.
What do you think about Panda Pals?