Julep: It's Red-Hot!! 50% off Valentine Welcome Box For New Subscribers!!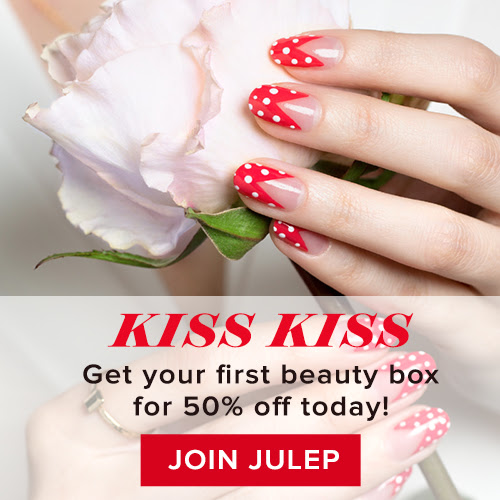 Cost: $24.99 per month ($19.99 per month if you prepay for a 3 month subscription)
Coupon: Use code XOXOXO to save 50% off your first month of Julep
Julep Maven gives you exclusive access to hand-pick trendsetting new nail colors, cult faves and cutting-edge beauty products based on your beauty profile. If you are a Nail Addict you will adore the top niche brand Julep and the Monthly Subscription Box Julep Maven.
Each month Julep releases a new collection, and you can decide which collection you want, you can upgrade/add-on to the collection, or you can skip (Julep recently changed their skip policy, so you have to earn a skip for every 6 months).
Maven's can:
Receive a fully customizable box of limited-run nail colors and beauty innovations each month
$40+ of full-size products in every box for just $24.99 per month
Free shipping and 20% off on julep.com all month long
Valentine's Day Welcome Box…
Roses are red, violets are blue, this 3-piece beauty box is just for you! Take 50% of the Valentine's Welcome Box when you join Julep Beauty. The Valentine's Day box features Shawn, a bright poppy crème nail polish that will give you candy-red Valentine's Day nails. The box will include two additional beauty or nail products. You'll be asked to take Julep's 2-minute beauty quiz and they will curate the two additional beauty products for your beauty box based on your quiz answers.
Shawn ($14.00)
Get your Valentine's Day beauty box today! Use promo code XOXOXO to save 50% off your first month of Julep and get this box for just $12.49. OR, you can sign up for three months of Julep and get your first box FREE. Now that is even better than chocolate!
What did you think about the Julep?