Little Passports: Happy Valentine's Day! A Sweet Deal!!
Coupon: Save 15% off any subscription plan by using code SWEET (Offer valid 2/12/16 – 2/17/16)

Cost: $14.95 per month plus shipping (usually around $3)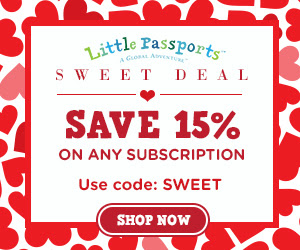 What is Little Passports?
Choose between three different Passport Editions based on the Age of your Child:
Early Explorers (Ages 3 – 5)
With the Early Explorers Edition kids ages 3 to 5 experience monthly adventures of animals, music, souvenirs, stickers, and more!
World Edition (Ages 5 to 10 years)
With the World Edition kids can experience a month full of adventure, following characters Sam and Sofia as they embark on each new country adventure. The Explorer Kit arrives in a suitcase and contains everything your child needs: a letter from Sam and Sofia, a map, a passport, stickers, access to online games and more!
USA Edition (7 to 12 years)
The USA Edition will feature the experience the wonders of all 50 states! The Discovery Kit which includes a letter from the characters Sam and Sofia, a USA Field Guide, a USA scratch book, a map, and a camera! This kit will allow your child to travel to two new states every month! Within each kit will be a activity-packed travel journal with stickers, postcards, pop-out models and access to online activities!
What do you think about  Little Passports?