Say it with a Sock: Free Socks and 10% Discount Coupon!!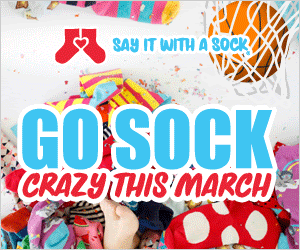 **This post contains affiliate links and I will be compensated if you make a purchase after clicking on my links.
Cost: $12 per month for a 1 pair subscription ; $20 per month for a 2 pair subscription. Shipping cost is determined by your location.
Coupon: Use Code MARCHMADNESS10 to get 10% off all 3, 6 and 12 month subscriptions. (Expires 3/31/16)
Say it with a Sock is a personalized note and brand-name sock subscription service that focuses on making every month a lot better (because either you, or someone you know is getting surprise mail in the form of socks—aka the best kind of mail). As a brand we're passionate about sock surprises, monthly notes, and bathtub hooch (okay, maybe not that last part). We hope that our store provides you a window into the fun world of socks. If you ever have questions about styles, please feel free to ask us! Or if you want to say hi you can reach us here.

*We'll let you insert your own sock pun here because we've heard them all. In fact, we challenge you to email us a sock pun we haven't heard. If you do, we'll send you a free pair of socks! —Have at it.
Previously Sent Socks:
What do you think about Say it with a Sock? Which subscription plan are you going to choose?