ALOHA: Sweet Treat for You!!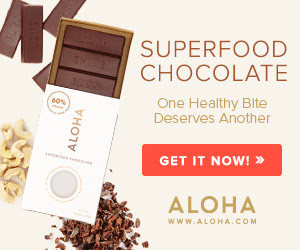 **This post contains affiliate links and I will be compensated if you make a purchase after clicking on my links.
Cost: $29.90 per month for a subscription (Free Shipping)
Coupon: Use coupon code FREECHOCOAFF to get 50% off ALOHA Chocolates when applied to your order of two or more chocolates of $68+. (Expires 3/17/16)
In the Hawaiian language, aloha means "sharing the breath of life." At ALOHA, we aim to do this by making health simple, fun, and accessible.

Maintaining a healthy lifestyle has become needlessly complicated. False claims, conflicting messages in the media, and weak regulations in the wellness industry are constant sources of confusion. We are increasingly exposed to stress and environmental toxins that compromise our health. ALOHA works to address these challenges and make an impact.

Products:

We believe that the best nutrients come from whole foods, but even the most health conscious among us aren't able to get everything our body needs from food alone. ALOHA provides the nutritional support you need to help maintain your already healthy lifestyle — plus a little nature-made oomph, just for good measure.
ALOHA Chocolates:
Made with dark, fair-trade chocolate—60% cacao— these bars contains fruits, veggies, and superfoods.  Smooth, rich, and slightly sweet, these bars are as delicious as they are nutritious.
What do you think about ALOHA? Will you be getting your ALOHA Chocolates?