Julep: Save 20% off Julep's New Zodiac Polish Collection – Introducing Aries!!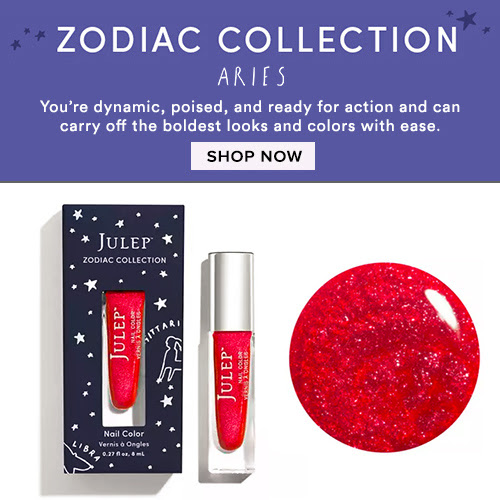 **This post contains affiliate links and I will be compensated if you make a purchase after clicking on my links.
Cost: $14.00
Coupon: Use coupon code LETSGET20 to save 20% (Expires 5/31/16)
Featured Zodiac Sign – Aries
Aries: March 21 – April 20
Dynamic, poised and ready for action, as an Aries you'll be direct and forthright in your choices. You'll usually know what you want, and if not will be quick to make up your mind with minimal hesitation. Thanks to your spontaneous, get up and go attitude, Aries can carry off the boldest looks that would typically overpower others. You can wear the most striking colors with ease, whether it's with a flash of red lip or a dramatically lined eye—it all reveals your exciting, ardent nature. With a competitive spirit you're a leader in your field, and often the first to discover a hot new look.
What's in store this next year?
Refresh and reset, Aries! Now is the time for you to refocus on your health and wellness and get your work routine handled. You've got the beautiful new moon in your sign on April 7th, which is giving you the drive and ambition you need to take on 2016 like the dynamic force that you are.
Aries
This risk-taker red was made for your exciting and dynamic personality.
$14.00 ($11.20 Maven)
Julep Maven gives you exclusive access to hand-pick trendsetting new nail colors, cult faves and cutting-edge beauty products based on your beauty profile. If you are a Nail Addict you will adore the top niche brand Julep and the Monthly Subscription Box Julep Maven.
Each month Julep releases a new collection, and you can decide which collection you want, you can upgrade/add-on to the collection, or you can skip (Julep recently changed their skip policy, so you have to earn a skip for every 6 months).
Maven's can:
Receive a fully customizable box of limited-run nail colors and beauty innovations each month
$40+ of full-size products in every box for just $24.99 per month
Free shipping and 20% off on julep.com all month long
Julep has just released their newest Zodiac polish for all you Aries ladies out there. Aries is the third polish to debut in Julep's new Zodiac Collection and is a 'risk-taker red' iridescent polish inspired by the exciting and passionate Aries personality. Plus, Julep has extended the coupon code LETSGET20 so you can save 20% on any regular-priced item on julep.com, including the polishes in the Zodiac Collection.
Shop Julep's Zodiac Collection and see what Julep's astronomers have to say about 2016 for your sign.
Offer details: Offer expires on 5/31/16. Offer may not be combined with any other promotional code. Monthly Maven Boxes are not eligible. Not valid for purchase of julep.com gift cards, gift boxes, Mystery Box, or Gift of Maven.
What's your sign? What do you think about the Julep's New Zodiac Collection Polish?