Julep: Patriotic Nail Art + Free Patriotic Beauty Gift!
Cost: Starting at $24.99
Coupon: 
Julep Maven gives you exclusive access to hand-pick trendsetting new nail colors, cult faves and cutting-edge beauty products based on your beauty profile. If you are a Nail Addict you will adore the top niche brand Julep and the Monthly Subscription Box Julep Maven.
Each month Julep releases a new collection, and you can decide which collection you want, you can upgrade/add-on to the collection, or you can skip (Julep recently changed their skip policy, so you have to earn a skip for every 6 months).
Maven's can:
Receive a fully customizable box of limited-run nail colors and beauty innovations each month
$40+ of full-size products in every box for just $24.99 per month
Free shipping and 20% off on julep.com all month long
Star Spangled 8-piece gift Info:
Includes four patriotic polishes, a hot pink lip gloss, a peony pink blush stick, a bronze eyeliner, and white chevron nail decals. These are all great for the 4th of July!!

Fun Patriotic Ideas for this Set from Julep:
Easy – Patriotic Dots: Create your base with two coats of Myriam, a red crème polish. Let dry, then use a toothpick or a dotting tool to make dots with Brigette (the white polish), let dry completely, then add additional dots with Paulina (a peacock blue polish). Remember to extend the life of your lovely new manicure with top coat!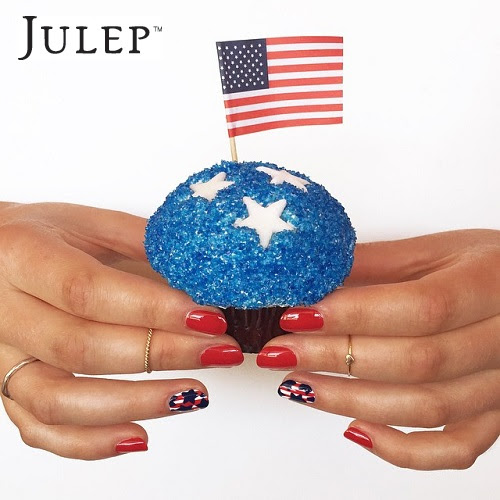 More Challenging – Stars and Stripes: On all nails, paint two coats of Myriam, your red polish. Let dry. On your accent nail, use scotch tape as a guide to paint even stripes of Brigette (your white polish). I always make guidelines with scotch tape for my lines, or else they often get squiggly! Let your lines dry, then with a toothpick, draw blue stars on your accent nail with Paulina (your blue polish).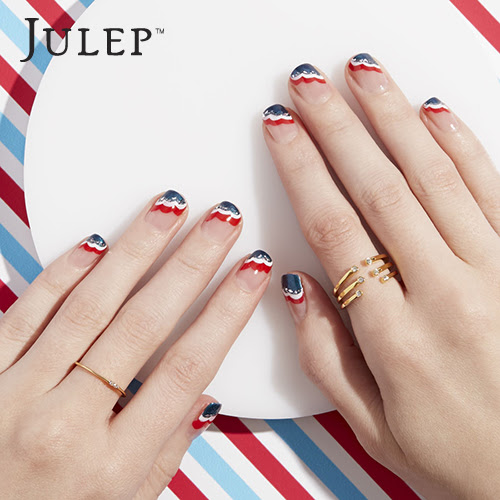 For a Pro – Red, White & Blue Waves: Slightly more advanced. Paint half of your nail with Myriam, your red polish, and add a scalloped edge. Let dry, then apply the white scalloped paint layer with Brigette. Let dry, then finish with a third scalloped layer of Paulina (blue). Optional: Add a touch a sparkle on top of the blue with Kirby. Be sure to finish with a top coat to make your mani last and shine!
What do you think of this Julep offer?