Treat yourself at ToGoSpa!
**This post contains affiliate links and I will be compensated if you make a purchase after clicking on my links.
Cost: Starting at $27.50 per month depending on the box you choose
Coupons:
The ToGoSpa Society is monthly membership that gets you EYES or EYES & FACE by ToGoSpa for you to use each month AND each month a new and exciting surprise gift from us to you! On our never ending quest to discover the best of the best in "on the go" spa products, we find some extraordinary things! We want to share some of this booty with you, and The Benefit allows us do just that! Each month, along with your EYES and FACE, you'll receive a unique and special gift of one of our favorite products. It could be a gift of our own ToGoSpa brand products, or another brand that we covet. The Benefit will be a full size, spa quality, awesome gift valued from $20 – $50 . We won't tell you what it is, but we think you're going to LOVE it!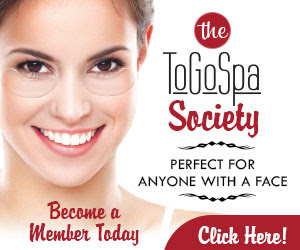 What do you think of ToGoSpa? Which Box did you subscribe to?